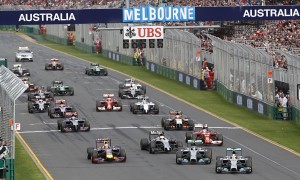 The second test has concluded, so now the time has come again to speculate, and speculate some more 🙂
By merely looking at the time sheets, it seems that this season will be a much closer battle between the teams than last year. Especially Ferrari seem very fast, and appear to have made a good step forward.
The biggest shock of testing was the crash of Fernando Alonso, of which we do not know what caused it. All reports say it was a strange crash, but it seems that Alonso "only" suffered a concussion.
Max Verstappen did a really good job, and I think that he is showing the potential to really impress this year.
Teams
Mercedes again racked up the most miles of all the teams, however, the gap was a lot smaller than in the first test. I am pretty confident that Mercedes is testing mostly reliability and long runs, and is keeping their cards close to the chest, to see what the other teams are doing and how they are performing relatively to the other teams. Their fastest times were all set on Medium tyres, which proves that there is, at least, another second to shave off the time if they were running on Softs, or even Super Softs. We can only wait until Australia to see where they really stand, but my guess is that they will be top of the pack.
Red Bull seem to be in good shape all around, although the Renault engine seems to be lacking power, still. However, based on previous years and the fact that this year is more evolutionary than revolutionary, I am pretty confident that the overall grip of the Red Bull will be phenomenal again.
Ferrari were again impressive. They seem to have a pretty good package overall, however, they have indicated that they have been focusing on setup runs, which means that they were mostly running low-fuel configurations, and they might appear better than they really are, but looking at the data, I think they are in a good place right now.
Williams are also doing their own program, and they are not focusing on speed at the moment. They did have a setback when Susie Wolff and Felipe Nasr crashed, but I think that did not affect them too much.
McLaren ran into problems with the engine again, as a faulty seal on the first day hampered their running a lot. Then on the last day, Alonso crashed, bringing some more trouble to the table. There are a lot of rumours going around on why he crashed, but until an official statement is released, we cannot be sure what the cause was.
Toro Rosso had pretty good days. Max Verstappen completed a good number of laps, and Carlos Sainz Jr. was, apart from a few incidents, not too far behind. Toro Rosso seem to have a good package as well, and the two young drivers have a lot to prove this year.
Sauber are looking quite strong, for a team that has struggled so much last year. However, it can be argued that they are mostly doing glory runs, to get some attention on them and maybe attract a few sponsors. To me, it would seem amazing if they would have made such a revival, so I am sticking with the glory run scenario.
Lotus are doing remarkably well this test, and it looks like they are doing glory runs as well, like Sauber. However, we know that Lotus can build a good car, you only need to look back at the 2013 season. Last year, they were also very much hampered by the fact that the Renault engine was underperforming, and I think they also made some bad choices in their design, like the split nose. This time around, they seem to be doing a whole lot better, which, in part, is also due to their usage of the Mercedes engine.
Force India were present with last years car, so there is not a lot to say on where they stand.
Engines
Mercedes racked up most miles again, and the teams using the engine are looking pretty reliable all around.
Ferrari looks reliable and fast, a pretty good combination to have.
Renault looks reliable, but still missing pace, which might be a problem again.
Honda were having some problems with their engine again. Nonetheless, reports are saying that they are still not running at full capacity, so we will have to wait until the last test, or even Australia, to really see what they are capable of.
Overall statistics
Day 1
Fastest time by Maldonado, which was a great surprise, as no one expected Lotus to be that quick. Hamilton dropped out sick in the morning, which left Pascal Wehrlein to takes his place and Perez to fill in for him at Force India. So a bit of driver shuffling there. Susie Wolff and Felipe Nasr crashed into each other, each one blaming the other.
Day 2
Ricciardo in the Red Bull on top this time, along with racking up the most mileage of the day. Nico Rosberg only drove in the morning, due to some neck issues, and Hamilton, feeling a bit better, came in to replace him. McLaren got 59 laps in, still suffering from the faulty seal, but that promised a lot for the upcoming days.
Day 3
Again Maldonado on top, albeit on the Super Soft tyres. Max Verstappen went second, on the same tyres, and put in the most mileage of the day. More problems for McLaren, as Button only managed 24 laps.
Day 4
Romain Grosjean topped the time sheets today, going fastest of the test, but on Super Soft tyres again. However, take note of the time of Nico Rosberg, which was only 3 tenths of the pace of the Lotus. Alonso had his crash today, so no more running for McLaren, after only 20 laps.