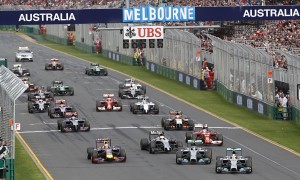 The third test has concluded, so now the time has come to do some more speculation on what we might expect the coming season. I am expecting a very exciting season and am very much looking forward to it.
This is just a small post with some team information and statistics. I am going to try to put in a post with my predictions for the season, before the first race.
Teams
Mercedes were nice enough to show their true speed during this test, and are still the team to beat. Their fastest time, by Rosberg, was set on Soft tyres and was 0.3 seconds faster than the time set by Bottas, but he set it on Super-Soft tyres.
Red Bull also set times on the Soft and Medium tyres, but I am not sure if they did qualifying runs, apart from their problems they had. They are still a team to reckon with.
Ferrari were very impressive over the course of the tests. I am pretty sure they will be competing for victories again this year.
Williams are again very fast and seem to have evolved well from last year. I am excited to see what they can do this year.
McLaren could very well be the dark horse this year. The Honda engine has had some problems with the reliability, but I expect some fireworks from them, as I think the engine, when it is running smoothly, will perform pretty well.
Toro Rosso are looking to be doing well with the rookies. I am very excited to see what they can do this year.
Sauber seem to have been performing well, but, and this is a big but, I expect them to have done mostly glory runs, to get more sponsors. I cannot see them going from pretty slow last year to very fast this year.
Lotus have the potential to perform a lot better, since they have switched to the Mercedes engine. Their chassis seems to be a lot better than last year as well, so they have the potential to surprise here and there.
Force India have only had a few days to test with their new car, so I am not sure to make of them yet.
Overall statistics
Day 1
Day 2
Day 3
Day 4