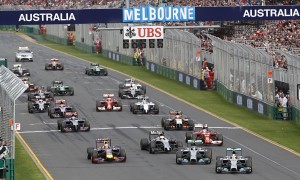 The first pre-season test has concluded, so now time for some results, and a small day-by-day breakdown.
First of all, what have we learned so far? Pretty much nothing, as this is testing and you cannot base conclusion on that. What we can do, however, is speculate, which is exactly what we will do 🙂

Teams
Mercedes racked up the most mileage in the test, doing a whopping 2271 KM (a bit over half of the total number of KM's done by Mercedes engines) all by themselves. However, it is my belief that they were not running at full capacity, but mostly testing reliability and new parts. Their chassis was the best in the past season and they have been building on this for this season. I think they have been observing their competitors this test, and will not show their true colors until either the last test, or maybe not even until Australia.
Red Bull had a bit trouble with their engine, and a small problem with a missing front wing, but they have been performing a lot better than last year's first test. Their chassis has changed quite a bit, and as it was a close second to the chassis of Mercedes, plus the fact that Renault seems to have found a couple of extra bhp in the engine, I think their motivation of this test was also mostly checking data and see how the car handled.
Ferrari seemed very solid, and appear to have made some big steps forward since last season. Their chassis is, according to Kimi Raïkkönen, handling a lot better in all areas. As Ferrari have been able to improve their engine a lot as well, they have gotten of to a flier, proven by the fastest times set on three of the four days. Ferrari currently seem to be in pretty good shape.
Williams has been a bit, well, inconspicuous, for lack of a better word. They were there, they did their laps, they seem to be in good shape, like last season. There is no real talk of any major upgrades, so, basically, we're just guessing with them 🙂
McLaren has been mostly testing the engine, it seems, as Honda can use the data. Apart from that, the car looks good, and it seems to handle pretty well, so far. Nothing much else to report there.
Toro Rosso did a lot of running, to give their rookies a taste of the action, and let them see how the car handled after a lot of running. They seem to have built a nice, solid package again, and Sainz Jr. and Verstappen have been looking pretty consistent and lapping well. STR was, however, also troubled by the same engine issue as Red Bull, so that hampered their running a bit.
Sauber also had some good and solid running. Their package seems to be quite good as well, as they were in the top-2 every day of the test. I wonder if they can sustain this.
Lotus did pretty well, considering they had no running on the first day, but managed to get on track on the second day and had some pretty good running as well. Nothing spectacular, but I did not really expect that from them, after the year they had last year.
Force India did not participate in the test.
Engines
Mercedes also completed the most mileage of any engine manufacturer and are looking pretty good. They have had some stoppages throughout their teams, but I do not think they are too worried so far.
Ferrari also had some solid running. Their engine seems to be performing well, or rather: a lot better than last year, which has been proven by both Ferrari and Sauber in getting fastest laps in. Rumors are that they have found 80 bhp, which they seem to be putting to good use in testing.
Renault were having trouble with a part on their engine, which limited them in the long runs. Nevertheless, they did over 2275 KM, between Red Bull and Toro Rosso, so that is not something to be overly worried about. They claim that the part will be replaced before the next test, so we will have to see how it fares them then.
Honda, in my opinion, were mostly just here to test the engine, see what it did in the car, and how it handled on slightly longer runs. I also do not believe that they ran at full capacity, as they do not want to destroy engines now, but rather test them properly.
Overall statistics
Day 1
After all official launches of the cars, the time had come to hit the track. The first thing that we can notice is that Mercedes has put in more than two race distances. Nico Rosberg, on his own, has driven a bit more than two full race distances, which, on the first day of testing, is pretty impressive. However, Mercedes were not the fastest on the track, but then again, their focus is probably more about reliability-testing than speed, as they know they have plenty of that.
Vettel, now in a Ferrari, was the fastest of the first day, going faster than Kevin Magnussen last year. So, a very preliminary conclusion, can be that the cars are faster this year than they were last year. Marcus Ericsson, in his Sauber, went second fastest, which is pretty impressive for them, as they were not fast at all last year.
Lotus did not get any track time, they were having trouble with the car.
Day 2
The first day of running for Max Verstappen, the youngest-ever Formula 1 driver, and a Dutchie! The focus for today was on the long runs, so there is no real use to compare times, but then again, there is never a lot of use in checking times, until we are in Australia. He was faster than his teammate though 😉 . He also completed more than a race-distance, which is good, because it gives him a lot of needed experience in how the car handles.
Anyhow: Vettel again quickest, Ferrari seem to have a pretty good car. Nasr in the Sauber was second, but 9 tenths adrift of Vettel. Bottas third and Hamilton fourth.
Mercedes had the most laps, 94, until the day was cut short due to a water leak. Ferrari and Sauber did a good number of laps as well, 88. Red Bull stands out here negatively, but that is because Kvyat had a little run-off and destroyed a front wing, and it was the only one they had, due to the fact that their nose/front wing was approved very late in the process.
McLaren, again, only had a few laps, as it seems they are still having some trouble with the Honda power unit. However, they are claiming to have found what the problem is, so they are hoping for more running in the coming days.
Lotus also got quite a few laps in, so that is starting to look better as well.
Day 3
A different sight at the end of day 3 of testing: no Ferrari on top of the time sheets, but rather a Sauber, in a pretty solid time as well. The Sauber, driven by Felipe Nasr, also racked up 109 laps, which is a solid number. Red Bull and Toro Rosso are, reportedly, suffering from a problem with the engine, more specifically "A stupid part". This problem prohibits them from running real long runs, so they are working around that by doing small sets of runs. This can rack up to a big number as well, as shown by Carlos Sainz Junior, as he completed 137 laps today. Daniel Ricciardo, in the Red Bull, suffered some more severe problems, so they had to cut short on their running.
McLaren ended with a total of 32 laps, which is a lot more than the other two days combined. The Honda engine is now also sounding a lot better than it did in the past two days, so it seems they are making real progress over there.
Lotus also got some solid running in and Kimi Raïkkönen in the Ferrari also put in a good number of laps in his first day at the office. Rosberg was the marathon-runner again, racking up a total of 151 laps. Mercedes have not been fastest on the time sheets, but the assumptions going around are that they are doing more reliability work than going fast.
Day 4
Again a Ferrari on top of the time sheets, this one driven by Kimi Raïkkönen, he managed to go a bit over a tenth faster than Sebastian Vettel earlier in the week. Sauber again second, which is pretty good, because it means they have been in the top-2 the whole week. Max Verstappen ended positively on the fourth place of the time sheets, and doing 96 laps.
McLaren did not get a lot of laps in again, but I think that is because they are mostly doing shake-downs, and no real performance running yet.
Not a lot of surprising things to say about today though, so I'll just leave it at this.