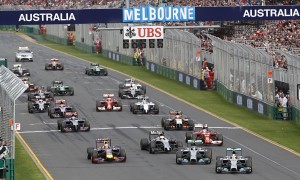 It has been a bit over two months since the last race of 2014, which took place on the 23rd of November, in Abu Dhabi. However, this Sunday, February 1st, the testing for the 2015 season will begin at Jerez.
First of all, let me just straight up say that I am by no means an expert on F1, and that I will mostly just post about the things I read and see around the internet, and of course what happens during testing and the races.
Now, the biggest question up until the first race in Melbourne, March 15th, will be if the (huge) gap to Mercedes will have been made smaller by the other teams. Mercedes' success last season was largely attributed to the engine, which was rumoured to have about 100bhp more than the other engines in the field. However, the chassis they made was very good as well, proven by how fast they were on the slower-speed-tracks. like Monaco, and Hungary. Red Bull's chassis was very good as well, as it has been over the past few years, but they were pretty much hurt by the Renault-engine.
Related to that question is also: how will the renewed partnership between McLaren and Honda perform? How will the engine be? Will they be able to compete for race wins?
Another big question will be how Max Verstappen will perform. He is, after all, the youngest driver ever to start a F1 season, and he is being hyped quite a lot. There has been a bit of criticism as well, wondering whether or not he is not too young to be able to race with "the big boys".
Hopefully, I will answer these questions over the course of the season, or at least, give my opinions on them 🙂
There is a lot to look out for this season, and I am excited!